Home gardening made easy for people that do not have the special touch to let plants grow like jack and the beanstalk. It is not that difficult. All you require is music, a bright sunny day, a shovel, spade and a big garden.
Landscaping is a skill that can be taught. Begin to obtain some general tips from family and friends that have green grass, beautiful flowers and breathtaking views from their back porch.
Walk around outside and draw a line with your imagination where you want to have flowers and were you want put in paving etc. Read up to see which plants require sun, semi shade or complete shade. Preferably make sure that the trees are indigenous and evergreen. Paste this information into a scrap book. Refer back to it when needed.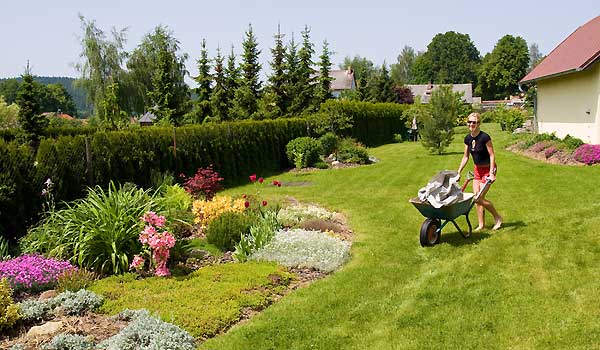 Take a stroll again. Decide on the plants that appeal the most to you and make a mental note of where it must be put and what you need to enable them to grow effectively.
Ensure you have lots of cash on you. The next step is a drive to a nursery. This is an excellent place to source knowledge and advice on gardening. They are able to tell you which grass grows the best. What plants are suitable for specific locations, they will even supply more general ideas to assist with your new adventure.
After taking a drive and spending all your cash. Start from a point and work your way slowly through each area earmarked for landscaping. Take your time. Remember that Rome was not built in a day. Add a water feature to create a relaxing, soothing environment. Use cobble stone to pave the walk way. Throw nice white pebbles into the flower beds.
Most of these things come ready made therefore it is not that hard to place it where you want it. You might require someone to help carry or do the electrical side of things but that is a small part of a bigger picture that you are trying to create.
When everything is in place it is mainly a maintenance that needs to be done. If it is too difficult for you to maintain a luscious green environment then rather use more paving and pot plant features. Make the work load as minimal as possible.
Home gardening is made easy by using a positive attitude and creative mindset. Educate yourself on an ongoing basis. Put the music louder, start shoveling and complete the tasks at hand before sunset.